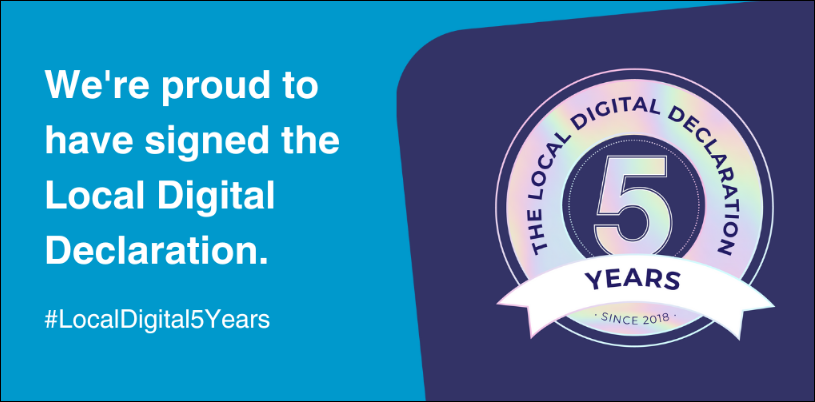 Back in March 2022, Councillor Andrew Day signed off our Local Digital Declaration commitments:
Commitment 1 – Using Service Design and Agile project delivery methods to create an improved Noise Nuisance service.
Commitment 2 – Create a Local Government Application Managers' Network.
As the sole member of our embryonic Digital Team*, I was keen to make an impact in my experimental Transformation Lead role. Becoming a Local Digital Declaration signatory gave me the courage I needed to keep plugging away!
Commitment 1
You can read all about our Noise Nuisance improvement project here.
Noise Nuisance: redesigning our service – Warwick Digital (localgov.blog)
We were fully live with the new service by July 2022.
Commitment 2
The LocalGov Application Managers' Network commitment was the perfect opportunity to develop an idea that had been floating around since 2016. Back then I had been our Application Support Manager within our ICT Services team. Application Support is a busy team responsible for maintaining and supporting our existing line of business software applications plus implementing new solutions, while working proactively with service teams to ensure they're leveraging all the functionality available.
It was also a lonely role at times.
And then I met Iftaz Hussain, Application Service Manager at Bradford Metropolitan District Council on an excellent Leadership Programme. We pondered how amazing it would be to create a LocalGov Application Managers' Network (LGAMN).
By 2019 we'd dabbled with creating our LGAMN but our network dried up shortly before the Coronavirus pandemic kicked in.
Undeterred, Iftaz and I renewed our efforts to reinvigorate the LGAMN and by tapping into other networks, including the amazing LocalGov Digital Slack Community, LinkedIn and SOCITM we gathered together 45 interested individuals from a range of local authorities.
We relaunched the LGAMN in November 2022 supported by a small steering group and a dedicated MS Teams platform kindly hosted by Rugby Borough Council.
Our membership is steadily rising (currently 116 members representing 71 local authorities) and we're a supportive bunch.
Membership of the LGAMN is free and open to any Local Government manager with responsibility for the Application Support / Dev Ops functions. To join simply complete our Membership form.

*Thankfully our Digital Team is slowly expanding and we now have a Project Manager and a Project Management Degree Apprentice.